Water Filtration Case Studies
Nelson Hospital
A: Supplied two integrated RO systems capable of producing 2000 LPD of pure water to supply special theatre equipment washing machines.
B: Supplied a Hallett H30 UV sterilizer for water sterilization.
Contact for further details: Sumeshwar Lal (03) 564-1679
K Craze job (Taupo)
Water supply for small subdivision contained high arsenic levels. Council would not approve the subdivision unless the owner provided a single dwelling or community treatment system.
APL was able to design a cost effective single dwelling unit and has been contracted to, and has council approval to supply a system for each section as it is sold.
Three units currently installed (2 pictured).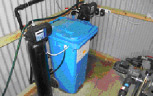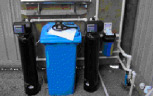 Thames Coromandel District Council (Thames)
TCDC have purchased to date 2 Hallett H30's for use at council owned facilities supplying drinking water to the public. This has future proofed these sites against the incoming new drinking water standard, DWSNZ2005.
Logan Print (Gisborne)
This contract was for the supply and installation of a Reverse Osmosis system to pretreat water followed by a Stenner dosing pump to add a chemical to the water to improve the performance of the printing inks.
Contact for further details: John Logan
Raurimi R&R Association (National Park)
APL supplied for the use of a small community, a "Magnum" turbidity reduction system capable of processing over 100,000 LPD , using our patented PCDM gravity filtration system. Also included was a Grundfos digital dosing pump to replace their aging chlorine dosing pump.
Contact for further details: "Doc" Hawthorn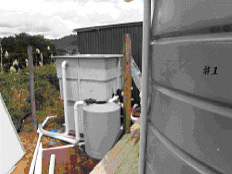 New Zealand Defence Force (RNZAF)
Stainless steel framed, portable Water Treatment Plant to produce up to 150lpm of drinking water to DWSNZ2005 quality standard for field use by the RNZAF.
Skid contains 2 pumps and flowmeters, 3 filtration stages plus two UV sterilisers and chlorine dosing. Pumps, Filters and UV's can each be run in either series or parallel mode.
The contract also includes Flocculation, Multimedia, Activated Carbon, Ph adjustment and Softener Tapin modules.
Contact for further details: Flight Sergeant Colin Edie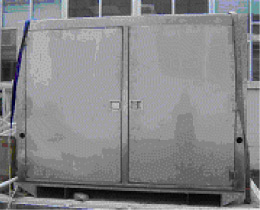 Community System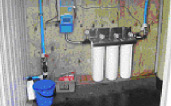 Small community system (North of Napier) with UV and water softener.
Labtests/ Gribbles Veterinary
Labtests new blood testing lab. Contract won to supply and install a complete Demineralised water treatment plant including 2 re-circulating loop pumps, 2 storage tanks, 2 carbon prefilters, 2 x 6000LPD Reverse Osmosis systems, 3 UV's, 2 mixed bed deionisers and 2 sub micron polishing filters.
Also included is a Conductivity controller plus a full PLC based monitoring system linked to Labtests computer for auto alarming and autodialing.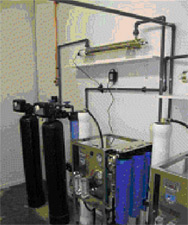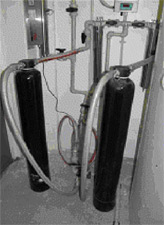 Hergesheimer (Whitford)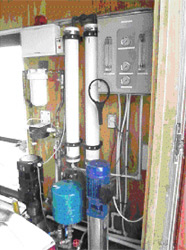 Whole house RO for removal of high levels of Boron in client's bore water.
Contact for further details: August Hergesheimer