Water Filtration Case Studies
Visit APL at Fieldays
Come see our exhibit at the Fieldays Mystery Creek 2015.
June 10 - 13
Visit us at the Fieldays and our expert staff will be happy to discuss with you further on Aquapro UV Sterilisers, the Stenner Dosing Pumps, the Pentek range of water purifiers, filters and cartridges as well as the Magnum Iron Removal System.
You will find us in Stand G49.
Mystery Creek (Hamilton)
System was designed to treat Waikato River water at a flow rate of 18,000 LPH utilising flocculation, clarification via patented adsorption clarifiers, multimedia filtration using Works Filter System's patented PCDM technology incorporated into the APL "MAGNUM" Gravity sand filter system and finally chlorination using Grundfos digital dosing.
Contact for further details: Roger Bailey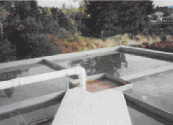 Aquacool
Auckland
This was a design, supply and install contract for a complete filtration / ozonation system to feed a 15l bottle filling machine at a flow rate of 200 LPM. System included Carbon filtration followed by 5 micron filtration, UV sterilization, 1 micron filtration and finally ozone injection into the water prior to bottling to achieve a .1 to .4 ppm ozone residual.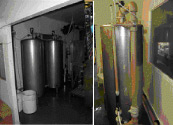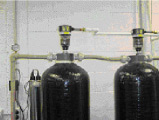 Contact for further details: Teresa McKee
Wellington
Similar to the Auckland project except for a flow rate requirement of 60 LPM.
Hamilton
Supply and install filtration and ozonation equipment
NZ Freshcuts (Auckland)
This contract involved fitting out a greenhouse with a fully reticulated nutrient feed and recycle system plus a 20,000LPD Reverse Osmosis system to provide low sodium feed water for the nutrient make up.
Contact for further details: Ashley Berrysmith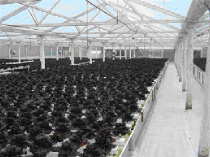 Simunovich Olive Estate (Auckland)
Supply of a water treatment plant to provide purified water to a cosmetics plant.
System consists of primary carbon filtration followed by a water softener which feeds a Reverse Osmosis plant to reduce the TDS. The water then passes through a mixed bed deioniser to produce purified water with a very low TDS.
Also included was a batching flowmeter and conductivity controller.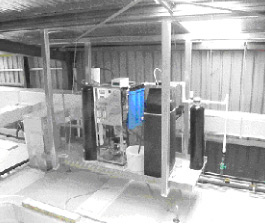 Big Blue Ltd (Auckland)
Complete turnkey modular water bottling plant including water treatment, ozonation and filling equipment.
Contact for further details: Keegen Denford
Le Vai (Samoa)
Supply two skid mounted water treatment systems for bottled water production incorporating pre filtration, activated carbon, sub micron filtration, UV sterilization and ozonation.
Contact for further details: Martin Lloyd
South Pacific Waters (Samoa)
Similar skid to that above but with extra sub micron filtration.
Stagecoach Buses (Auckland)
Bus washwater recycling systems were supplied to North Shore, Manukau and MT Albert depot through Fuelquip, the supplier of the bus wash equipment.
Contact for further details: Bryan Milne
Waikato University (Hamilton)
Supply and install a 1000 LPD Reverse Osmosis plant.
Contact for further details: Colin M
Magnum System (Taupiri)
Iron removal system for high iron concentration, capable of providing up to 50,000 litres per day of iron free water.
Contact for further details: Daren Ross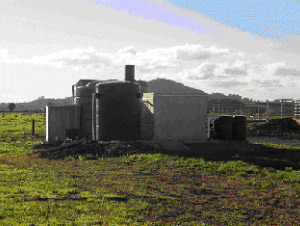 Leigh Fisheries (Warkworth)
This waste water system replaced inefficient settling ponds with their associated odour problems and reduced the effluent BOD loading down to below 10.
Contact for further details: Pat Drum